The

Wilhelm Gustloff

as Lazarettschiff D
1939-1940
When Hitler invaided Poland on September 1st, 1939, the

Wilhelm Gustloff

and

Robert Ley

were requisitioned by the German Navy as 'auxiliary' ships. From this point on, the

Gustloff

would never make another pleasure cruise. Instead, she was designated 'Lazarettschiff D' (Hospital Ship D) and had a green line painted across her hull, with a red cross on her deck and funnel where the KdF symbol stood for nearly 2 years.
Doctors, nurses, and many pieces of medical equipment were brought onboard to take care of the sick and wounded casualties. As the war began, the

Gustloff

first appeared in her new role in Danzig-Neufahrwasser where 650 to 700 were brought onboard. She was berthed in Danzig for several months, before being sent to Olso for those involved in the Norwegian campaign.
In July of 1940, the

Gustloff

was to play a role in the invasion of England code named
Operation Sealion. However, Hitler was not able to get the air power he so desired over the English Channel, so the invasion was called off and the

Gustloff

was no longer needed. On October 22nd, she is sent to Oslo to berth one more time before her stint as a hospital ship is finished. In November, she would take the stage in her final role as an accommodation ship. Below are images and memorabilia which were used onboard her during this time.
Presented at left are two postal stampers which were used onboard the

Gustloff

when she was Lazarettschiff D. The bottom of the stamper reads "Kriegsmarine Feldpost, Lazarettschiff

'Wilhelm Gustloff'

". The makers mark remains on one of the two (at left) and the handle is engraved "Manuf Willy Pudert. Schles Stemp. Gorlitz * Mittelstr.8." Below are feldpost letters and postcards with this marking. I have heard that these may be reproductions, but I cannot say. I only know they match the original stamps on the documents I have shown below.
---
---
Left: Postmarked June 30th, 1940. Image donation with the postal stamp.
Right: Postmarked December 13th, 1939. Stamped with another variation cancellation.
The above Feldpostbrief is folded, and right shows the other side with sending information.
---
Stereoscope (3D) images of the

Wilhelm Gustloff

as a hospital ship.
Operating room onboard the

Wilhelm Gustloff

. Source: Schiffe Menschen Schicksale "

Wilhelm Gustloff

", Nr. 15, January 1995.
The

Gustloff

with ambulances. Source: Der Landser Grossband Nr. 11
Painting:

Wilhelm Gustloff

as Lazarettschiff D. Source: Cover, JSC's 1:700

Wilhelm Gustloff

hardstock model kit.
---
The

Wilhelm Gustloff

as
Lazarettschiff 'D' Photo Gallery
Click on the pictures to enlarge. More will be added as they are acquired.
---
---
Wilhelm Gustloff

as Lazarettschiff 'D' Photo Collection
Officer and nurse photo lot taken onboard the

Wilhelm Gustloff

. Photos each have writing on the backs which is currently getting translated. Photos are dated 1939 & 1940 with the ship's name and other writing. Photo below and in the lot was taken onboard the Gustloff's deck with her life ring in the foreground and the hospital ship "

Berlin

" berthed across the way.
---
Lazarettschiff 'D' Letters:
Letter #1: Left:


1 page front & back - Sent on September 28th, 1939 via Hamburg - Just after the war's beginning.



Letter #2: Below & Right:


4 page letter front and back - Sent on September 24th, 1939 via Danzig. Also just after the war's beginning.



---
Lazarettschiff D Envelope:


November 22nd, 1939

No letter inside.
---
Wilhelm Gustloff

as Lazarettschiff 'D' Photo Collection #2:
- Set of 12 photographs onboard the ship dated November 2nd to 7th, 1939.
The following six photos come from the same collection dating March 3rd, 1940.
Interesting photo of the

Wilhelm Gustloff

between her conversion from a hospital ship to an accommodation ship. You can see in this photo where the former green hospital ship line was by the different shade of white on the hull. Her next step was to be painted gray.
---
The following five photos came from the same collection of the Gustloff in Stettin.
Wilhelm Gustloff

Hospital Ship Papers:

1. Data sheet of German Navy soldier Max Hansen. On the sheet is his name his data, his occupation learned (machine fitter), english language spoken, his height and weight and the personal description such as dark blond hairs, grey green eyes, flat forehead, teeth are complete, normal chin, no special marks and that his slang is high German.
His photo was overstamped with the

Wilhelm Gustloff

stamp print. On the reverse is the name of his father and the note that Navy soldier Max Hansen is not married and has no children. His father lived in Kiel at the Adolf Hitler street 17/1

2. Master card or staff card bag/envelope with following handwritten entry: "Max Hansen on 4.4.40, B no. 1.00/7c. Rubberstamp by the

Wilhelm Gustloff

.

---
---
Original

Wilhelm Gustloff

Lazarettschiff Video - 1939-1940
By: Karl Hoeffkes

Reproduction / Fake - Reproduktion / Gefälschte:


​Wilhelm Gustloff Onboard Library / Hospital Ship Books
Der Artz Im Hause or The Doctor in the House
Published 1923

Consists of two books, one for the male and one for the female anatomy. Both with reproduction stamps for the ship's library.
---
Arbeitertum - September 1940.



10. Jahrgang, Erste September-Ausgabe.​​
KdF Schiff "

Wilhelm Gustloff

" unter dem Roten Kreuz. or The KdF Ship "

Wilhelm Gustloff

" under the Red Cross.
Featuring several images of life onboard during her time as Lazarettschiff 'D'.


​Article Translation:

​​ Who drove from the many informed happier people who navigate in recent years in a happy holiday season for the proud of KdF fleet to foreign countries, would have thought that these ships would serve once for purposes other than those for which they were intended, namely , German workers to show you the beauty of the world and force them to give in carefree weeks of recovery for new creating.
​The war forced upon us put an end to this happy trips. But even now serve the KdF ships peaceful purposes. Thus, the "Wilhelm Gustloff" in a perfect, floating hospital was converted. He took over, ankernd before Oslo, Norway = Action of the wounded in 1940 and brought them to the home. The major premises of the ship, such as smoking room, etc., have been established to sleeping quarters. The large dining room walls were raised, thus creating more space to accommodate the dental clinic, the operating room, X-ray station and other departments of a hospital.
The wounded and sick who were treated on the ship are full of praise for the compassionate care that was given to them. The good KdF ship cuisine and fresh sea air helped, as they said, much to the rapid healing. Thus, the "Wilhelm Gustloff" still leads, albeit under changed circumstances, by its peaceful mission. In this case, it not only gives our field gray recovery, special fighting the necessary relief from the heavy, which lie behind them. R.K.R.​
---
Right: Additional photo of the

Stuttgart

&

Berlin

as hospital ships.
---
An unusual memorial card for someone who died onboard the

Wilhelm Gustloff

during her time as a hospital ship.
​
Unser lieber HJ. - Kamerad
Gefreiter Hans Heidermann ist am 28. März 1940 auf dem Lazarettschiff "

Wilhelm Gustloff

" einer kurzen Krankheit erlegen. Er starb in treuer Pflichterfüllung für Führer, Volk und Vaterland.
Wir werden diesen treuen, tapferen Kameraden nie vergessen.
Hitler-Jugend / Bann Rees.
Wesel, den 29, März 1940.
Our dear HJ. - Comrades
​
Corporal Hans Heidermann has died on March 28,1940 on the hospital ship "

Wilhelm Gustloff

" after a brief illness. He died in faithful performance of duty for leaders, people and our country.
We will never forget these loyal, brave comrades.
Hitler Youth / Bann Rees.
Wesel, 29 March 1940th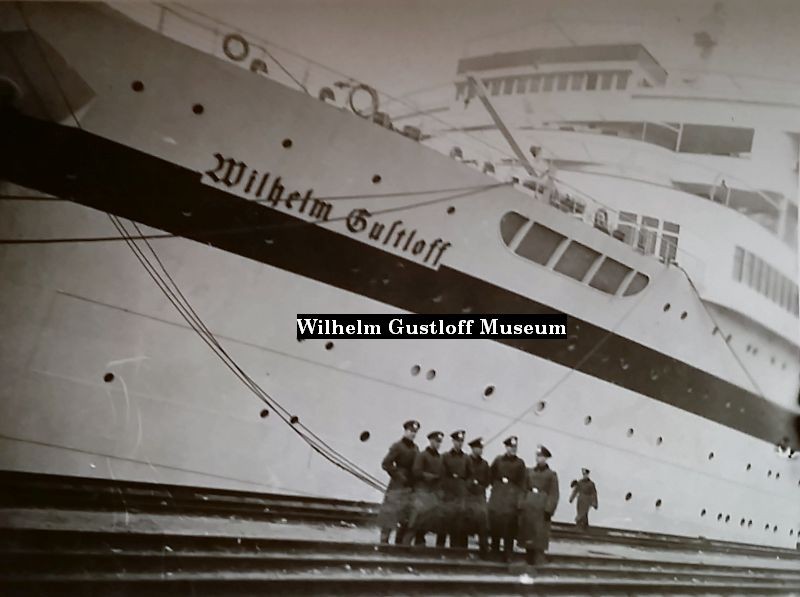 ---
Die Neue Linie - October 1940

​​ It is rare to find articles published during the
Gustloff's
stint as hospital ship
Lazarettschiff D.
In this publication (translated as
The New Line),
we find such a rarity over a 2 page spread.
​
​
Die Neue Linie
was primarily a fashion and style magazine - somewhat of an odd place for a story on a hospital ship!
However, intrigue over the former cruise ship's role in the war obviously held some value to the publishers. The inevitable brush of propaganda displays life as carefree and even relaxing on board.
Source: wilhelmgustloff.com​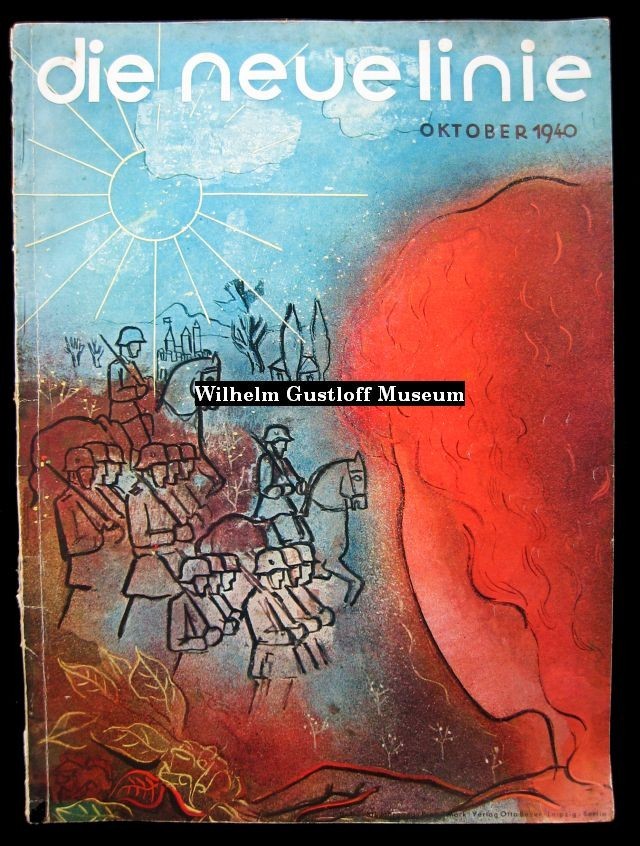 ---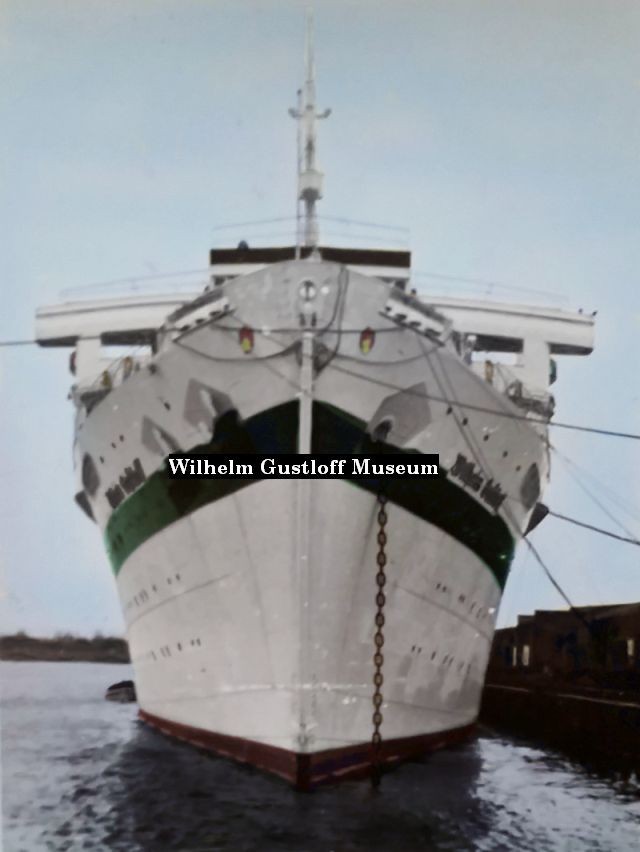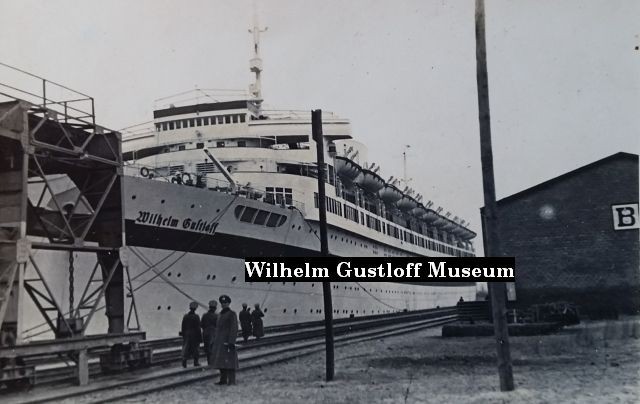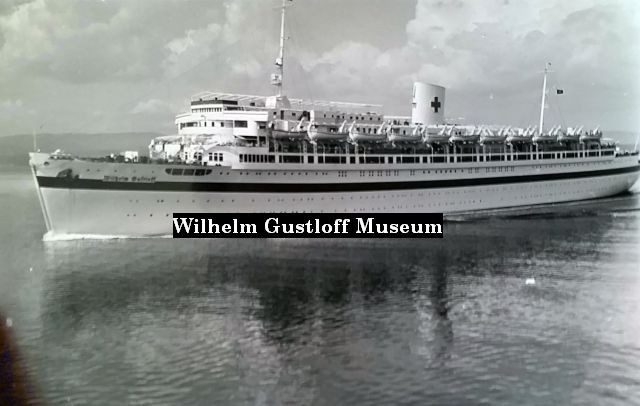 Three great shots of the

Wilhelm Gustloff

as a hospital ship:
Left: Colorized image of her bow at anchor.
Middle: Berthed ​during the war.
Right: Sailing between ports.​
​​​