On the bitterly cold night of January 30th, 1945, three torpedoes from the Soviet submarine S-13 sank a ship that was evacuating 10,573 German refugees from advancing Russian forces. In only 70 minutes, 9,343 of them would be lost with the ship causing the worst loss of life on a single vessel in maritime history.
*Disclaimer:


The

Wilhelm Gustloff Museum

does not promote any views, political or ideologically, of Nazi Germany or Hitler in showcasing these items, which include the Nazi flag and swastika. We are dedicated to preserving memorabilia from the

Wilhelm Gustloff

and her sister ship,

Robert Ley

in their original form. By displaying these items as they are, they preserve a more authentic and powerful account of their place in history.
The museum serves as a vast informational source as well as a physical collection for those who are interested in the

Wilhelm Gustloff

for research, educational purposes, and from a historical aspect of World War II.
Her name was the

Wilhelm Gustloff
Welcome to the Wilhelm Gustloff Museum


At an early age in 1991, I was introduced to the

RMS

Titanic

and the ocean liner obsession began. It started out just as any other collection, with the purchase of books. This gave way to reproduction items, then original items from various shipping lines - my first piece being a saucer recovered from the

Empress of Ireland

. In 2007, while doing some research, I discovered a website that touted menus (for sale) from history's most devastating shipwreck - the

Wilhelm Gustloff

. Until that point, I had never heard of the ship, but by the time I finished reading the accompanying information on her history & tragic ending, I was instantly captivated and purchased my first

Gustloff

item - a speisekarte from March 29th, 1939.
Two years later, I decided to establish a museum dedicated to a ship that most have never heard of. Throughout these pages, you will learn about the deadliest maritime disaster in history; not just through her story, but by the physical effects she left behind. So many books on the

Wilhelm Gustloff

focus solely on her sinking, but I wanted to tell her whole life story from construction to her effect on the present. This site is not about politics, ideological views, or hatred of any sort - but rather it is an ever-growing memorial to 9,343 men, women, and children.
The latter pages of the museum are dedicated to the

Wilhelm Gustloff's

sister ship, the

Robert Ley

. While not as famous as the

Gustloff

, her later years were also met with tragedy when Hamburg was bombed in 1945. This site is currently the

only

place in the internet where an exhibit on the

Robert Ley

can be found.
My goal is to turn the Wilhelm Gustloff Museum into the world's largest online collection of artifacts from these two liners. Some of the images in our archives have already been published in books, including

'The KdF Fleet in Historic Photographs'

by Russ Willoughby. The complete list of published materials can be viewed under the Links & Credits page. With the exception of the few items with credits, every item you will see is owned by the museum. The long-term plan is to open a museum exhibit for the

Wilhelm Gustloff's

100th anniversary in 2045.
I am always looking to expand the collection to keep the story of these ships alive. In my years of collecting, I have noted other

Wilhelm Gustloff

sites say how 'rare' these items are. You will not find that word anywhere on this site, because the simple truth is that 75% of these items are not 'rare'. Yes, some items are harder to come by than others and you are left with the 25% of artifacts and photos that probably are one of a kind, but there are always items from the ship floating around. The issue is most collectors collect only for themselves and items are never made public - to which I know of a few collections.

If you would like to make an item donation from either of these ships, please contact me through the address or email provided below. With your efforts, the museum can help keep collections intact and artifacts displayed to keep her story alive instead of being lost to the world.
Mission Statement:

The Wilhelm Gustloff Museum is an online non-profit museum dedicated to exhibiting memorabilia of historical value for public viewing and research benefit.
By promoting and displaying such artifacts, they are prevented from falling into private collections where their history will be forgotten and be lost to the world.

The Wilhelm Gustloff Museum logo copyright 2010.
All items are owned by the museum unless otherwise credited.


The museum page layout is 1300 pixels wide, which is best viewed on an HD screen.





Please help further the cause of the museum by adding our link to your website or personal pages.




This site was finalized & published for the first time on February 17th, 2010.
Last Update: June 18th, 2017
The Wilhelm Gustloff Museum
P.O. Box 7035
Hampton, Virginia 23666
United States of America

Email & Paypal: curator@wilhelmgustloffmuseum.com

Now on Facebook - Wilhelm Gustloff Museum.
Featuring updates to the site and information.
100% of donations are put towards exhibit expansion.
Thank you for visiting and please enjoy the exhibits!

ENTER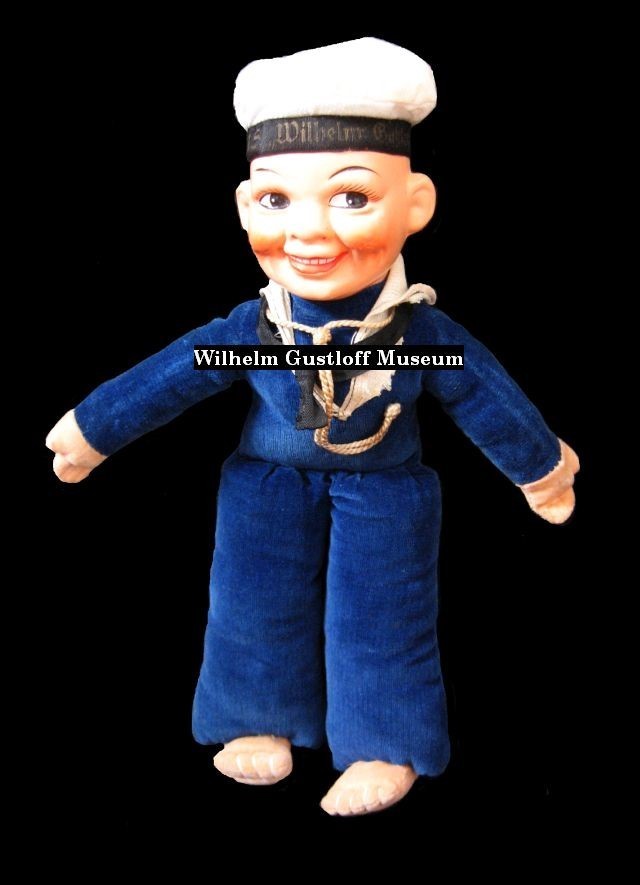 UPDATE - SUMMER 2017
During the summer of 2017, the Wilhelm Gustloff Museum website will be undergoing an update to consolidate photographs, add new artifacts and translations, as well as merging information from the former website www.wilhelmgustloff.com. ​