Scale Models of the


M.S. Wilhelm Gustloff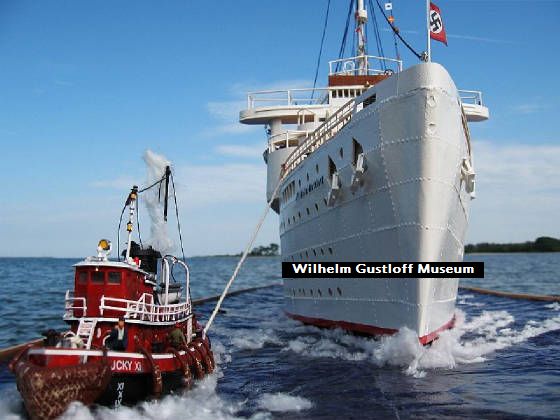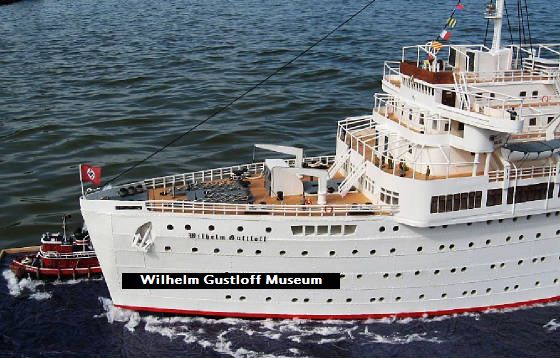 Presented here is a 1:100 scale model of the

Wilhelm Gustloff

in her passenger liner configuration. Construction began on January 17th, 2009 and ended 51 days later on March 8th at a cost of just under $1,000.00 (including later upgrades). Her overall dimensions are 6.85' in length, 2' to her forward mast, and a 10" beam at the Unteres Promenadendeck.
She was built as best as she could have been based only on photos of Wolfgang Waschki's R/C Gustloff model in Berlin, Germany. (I did not have any plans to scale her and I had to eye the entire model.) See:

http://www.smc-noris.de/gustloff.htm

. On August 23, 2009, her bridge windows were upgraded, 70 scale passengers were added on board, and a tugboat was added for visual effect. She has a beautiful profile for being one of only four large scale models of the ship in existence. The third is at the German Maritime Museum and the fourth being her navy configuration model at the Laboe Museum in Kiel, Germany.

Laboe Model Link


Other features include a fully-built interior promenade on the Unteres Promenadendeck, faux glass in all of her windows / portholes, and a detachable 7' ocean base. This model was a trial run for a more advanced model currently in the planning stages - which will be built to either a 1:100 or 1:75 scale.
1:100

M.S. Wilhelm Gustloff


Built January 17th, 2009 to March 8th, 2009 by the curator.
---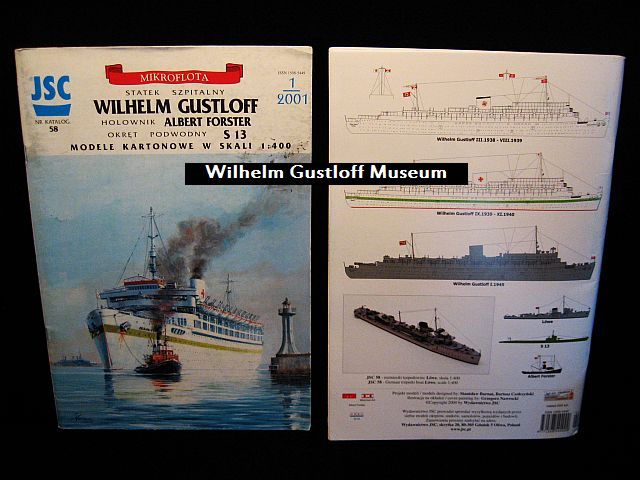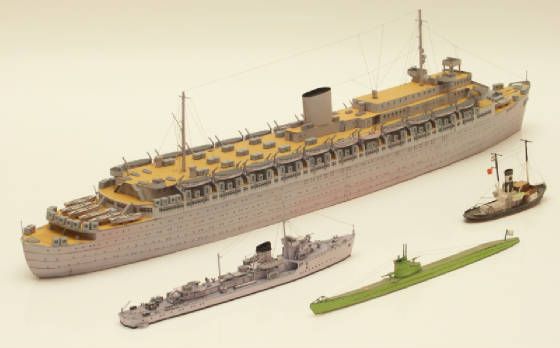 Shown below are two readily available examples of the JSC 1:400

Wilhelm Gustloff

paper model kits. Both are manufactured by Wydawnictwo JSC of Poland. The kit on the left was produced in 2001 and features the

Gustloff

in her cruising white, and comes with the tugboat Albert Forster & the S-13 Sub. These directions are only in Polish. The same kit was updated in 2009 (right - shows the back of the book.) and has improved greatly. The '09 kit has the same cover, but it includes the option for the 3 versions of the

Gustloff

, (Cruising White, Hospital Ship, & Accomodation/Transport.) It also includes the tugboat Albert Forster & the S-13, but now has the Lowe escort. This kit comes with directions in Polish, German, and English. The photo below is from the 2009 version of all models completed and the

Gustloff

in her wartime grey. I attempted the hospital ship version of this model, but it was too small for my taste and I gave up after the hull was finished.
JSC's picture of a complete paper model set.


---
1:700 Scale

Wilhelm Gustloff

Model, Queen of the Seas Series, HP Models, Waterline
1:700

Wilhelm Gustloff

Model - Special Edition, A WWII version with a 1:700 S-13 Submarine. Original cost - 140 Euros.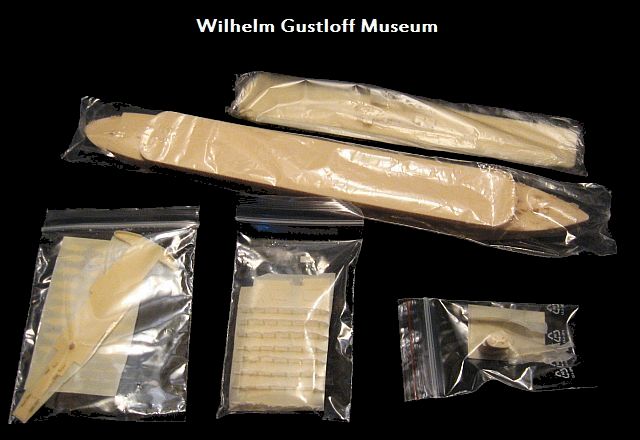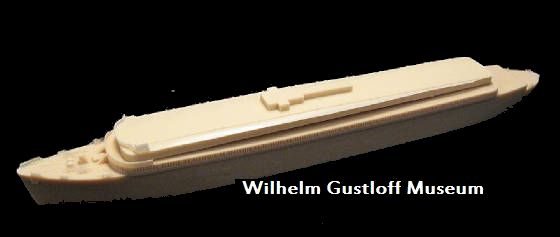 - The smallest model kit of the

Wilhelm Gustloff

to find is the standard HP Queen of the Seas Series 1:700 Scale. This model is quite difficult to work with due to the fragility of parts, solid hull piece, and very small details.

- Peter Fulgoney of England pieced together what is no doubt the most fantastic 1:700 Kriegsmarine version of this ship. Photos are shown below and you can visit the Mr. Fulgoney's full webpage at Model Warships listed below:



Peter Fulgoney's Wilhelm Gustloff Model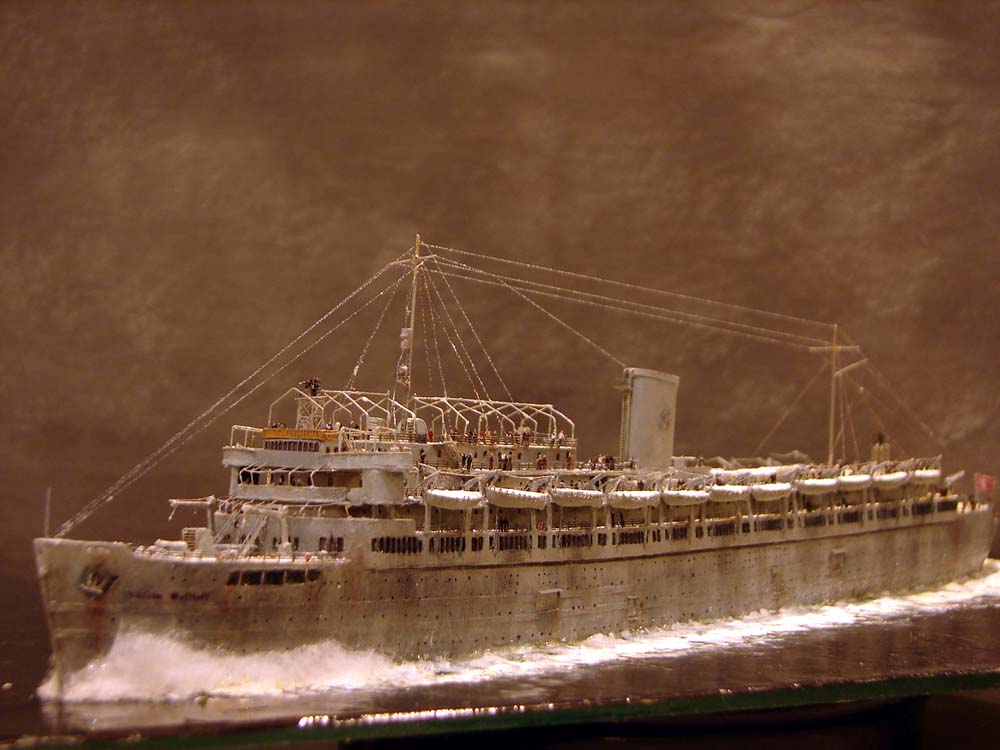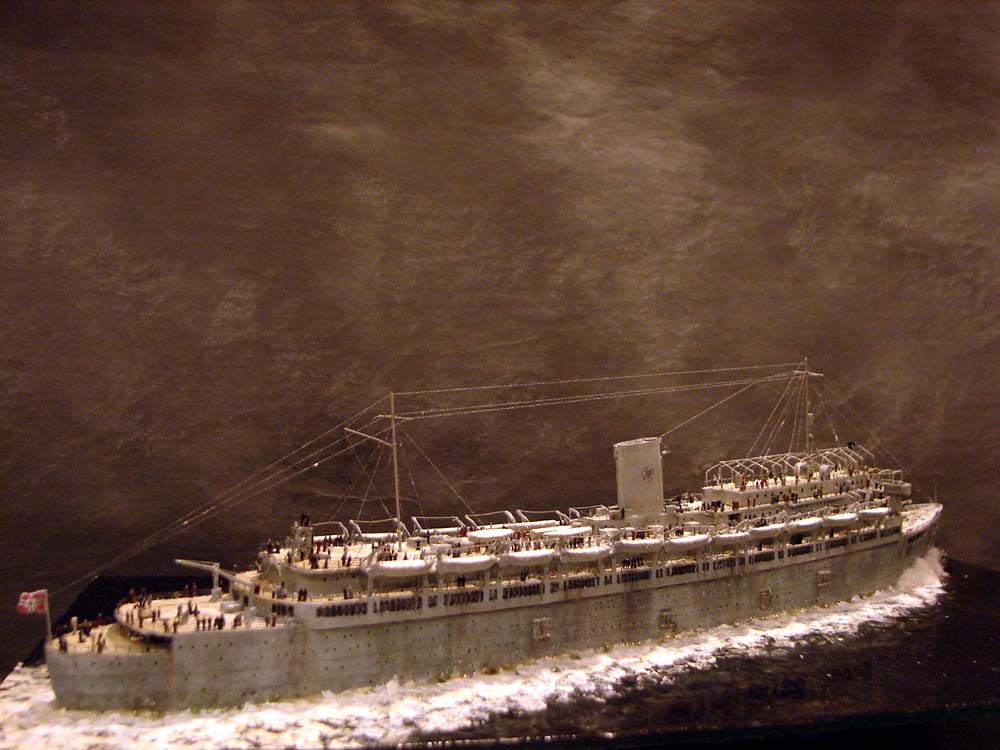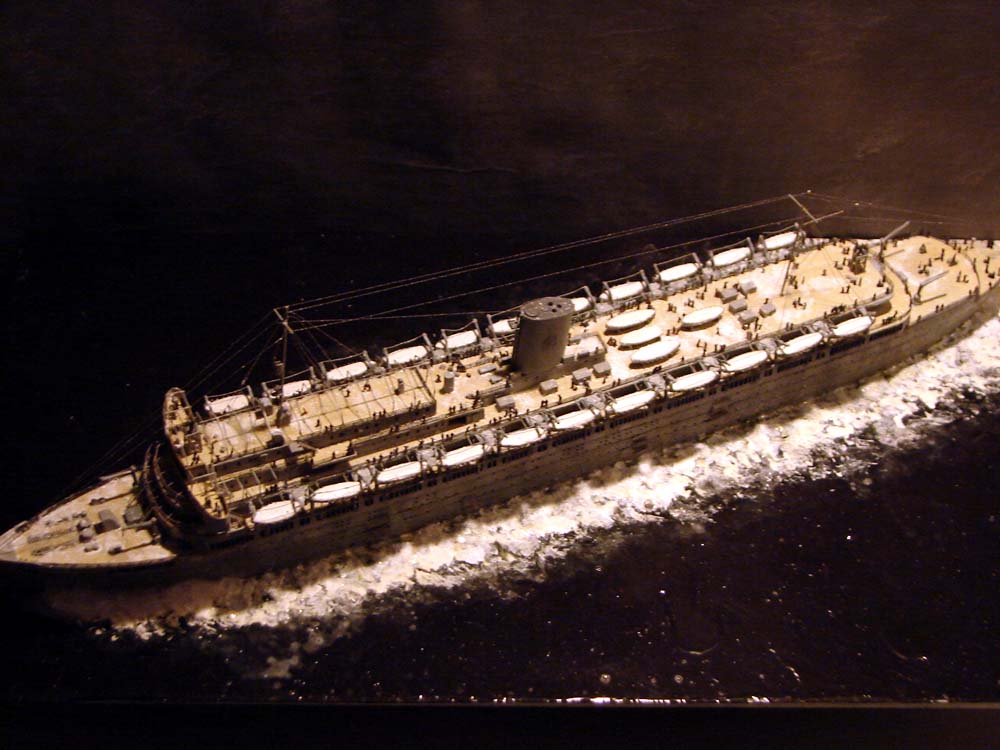 ---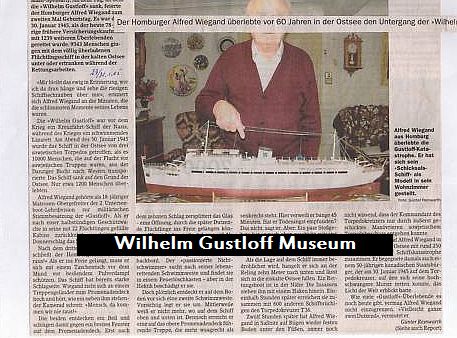 Newspaper article with a

Gustloff

model.
Wilhelm Gustloff

Model - Laboe Museum in Kiel, Germany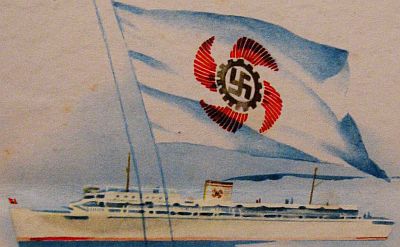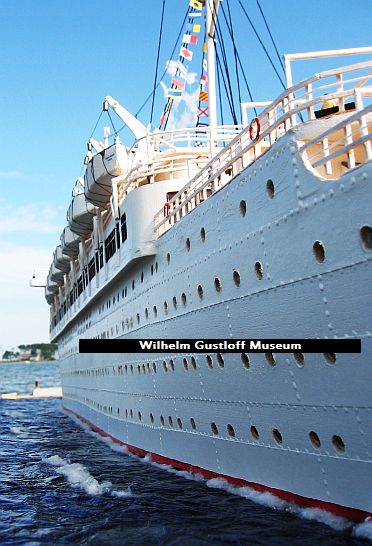 Exposed Lower Promenade Deck during construction - 2009
Photo taken before the addition of passengers and the tugboat.
---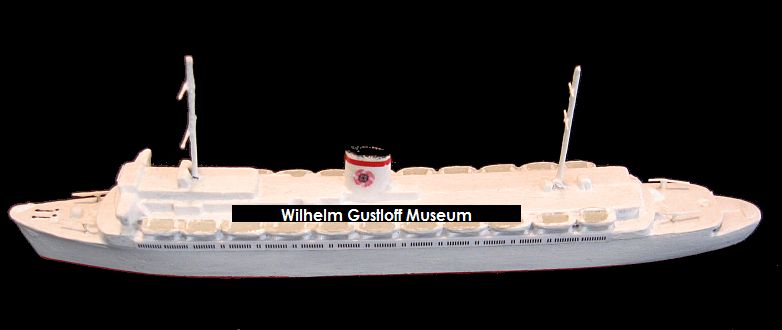 Above:

1:1250 Cast-Iron Models of the

Wilhelm Gustloff

. Manufacturer: Wiking



Left:

Scratch built 1:1250 wooden model of the

Wilhelm Gustloff

.
Date unknown.​​​



Below:

Atlas Editions 1:1250 Wilhelm Gustloff - Special Ocean Liners Collection.​​
---
Wilhelm Gustloff

1:200 Scale Model Kit
This model of the liner

Wilhelm Gustloff

KDF is unique in that it is the illusive 1:200 scale kit most have only ever heard of. It was produced in layer structure and already has almost all the electrical components. The electrical system is built in detail and is already equipped with bulbs that are already fully wired. The model is near completion, but still lacks several key detail features. Included were plans consisting of three pages on a scale of 1:200. **I do not own this model, but wanted to share the photos of it.

The dimensions of the model:
Length: 1080 mm
Bridge width max 150mm / 125mm hull
Height: 270 mm
1:200 scale model ship Wilhelm Gustloff in layer structure

Kit included: Electrical lighting wired completely, Servo for rudder system, Electric Throttle, Various Switching Modules, 2 brass boat propellers, Lifeboats with tether (wire), Speaker, Miscellaneous small items, Cardboard model kit in 1:400, 1:200 blueprint, 2 per 6V lead-acid batteries, unused.
---
Wilhelm Gustloff

1:100 Scale Model Hull
Incomplete model recently auctioned off in Germany.
These are the auction images for historical record.
---
A 1:200 model of her sister - the

Robert Ley

, can be found under the

E.S. Robert Ley

page also.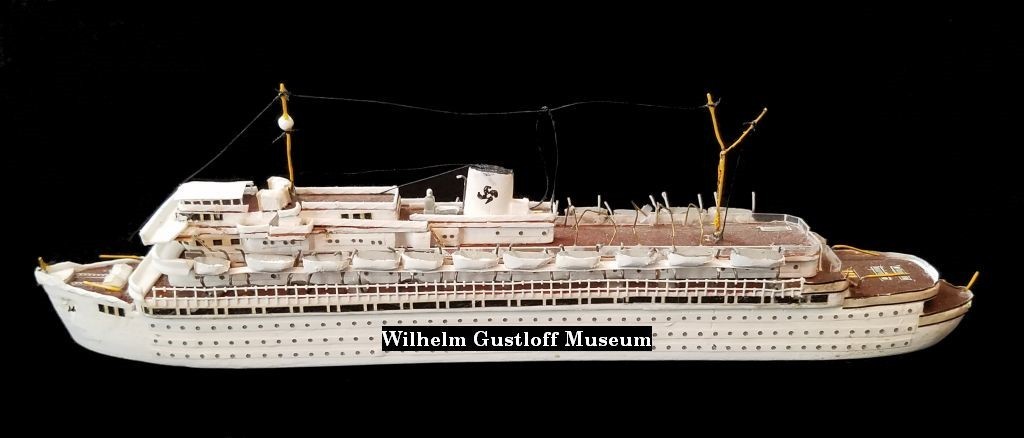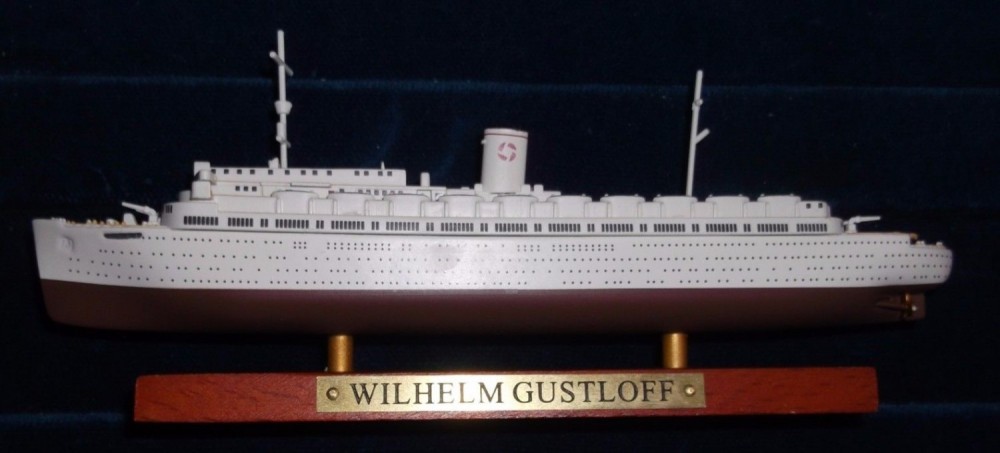 ---
1:250

M.S. Wilhelm Gustloff

Kit by JSC of Poland.
Built November 2nd, 2018 to January 27th, 2019 (off and on) by the curator.

Up until a few months ago, I didn't know this scale version existed. It gave the option to built one of the three versions - cruise ship, hospital ship, or accommodation ship. It also included the tugboat Albert Forster, S-13, and Lowe with directions in English, German, and Polish. I happened to find it in an online model ship store and purchased it from Germany with the addition of laser cut parts the company made in the same scale. There wasn't much detail within the kit itself, so much of it I scratch built - replacing all portholes and windows with clear plastic, deck equipment, railings, etc. ​​When the model was completed, I added roughly 275 Z-scale passengers, a custom base, and plexiglass case I made for the model. Unfortunately, I don't live in the same area where I took the photos of the above model, so many of these I took inside.